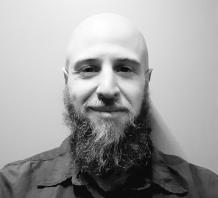 Max Hodes max.hodes@gmail.com
Location:
Oakland
,
CA
United States
What originally drew me to Integrated Awareness?:
I first came to Integrated Awareness as a teenager. I was troubled by a rapidly expanding set of perplexions and found conventional therapeutics useless. IA appeared by way of a family-friend as a stroke of inspired luck. It was immediately rewarding. I developed a cascading increase in the quality and scope of my sensory body, as well as magnified willingness to feel purpose. Over twenty years later, I am still delighted to be finding opportunities to immerse myself further. My life experience, generally and as a musician/martial artist, has been greatly expanded by the capacities I've developed on table and on the floor. It is rarely easy to harness the intense creative energies with which I've been gifted, but more and more it is joyful. From growing hand-to-hand coordination, to learning to self-generate inspiration, to spontaneously connecting disparate sensories what I have been making of myself since my first session, a personhood of choice as well as chance, is founded in the explorations of IA.  
A description of my current services:
This process leaves me eager to bring a powerful and compassionate presence to my guests. I have been actively cultivating an expansion and expression of my energetic senses since my first session, and my guests benefit from my willingness to hold their intense feelings without coercing form or function. Those whose creativity and intensity is stymied, looped or wracked by judgement tend to benefit the most. It is a joy to be their ally and to collaborate with them in their creation of new experiences for themselves.  
Background and Additional Credentials:
B.M. Music Production and Engineering, Berklee College of Music
Performer, Author and/or Producer of many records 
Moy Tung Ving Tsun Kung Fu, teaching as of 2020