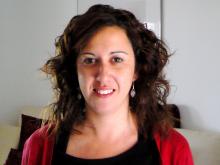 Desde que Andrew trabaja conmigo son muchos los cambios que he notado y ha sido una gran sorpresa para mí, es más de lo que yo me esperaba y los cambios se sienten rápidamente.
Por una parte, me siento con más energía, ya que últimamente estaba siempre muy cansada y este cambio hace que tenga más ganas de hacer cosas y que me sienta más positiva.
En general estaba bastante triste y sin ganas de salir o de ver gente y esto ha cambiado. También estoy más serena y no tengo los cambios de humor  y de ánimo que tenía anteriormente.  Estar más positiva me está ayudando a llevar los problemas con más tranquilidad, sin agobiarme tanto e intentando solucionarlos de una forma sensata, sin apresurarme.
Por otra parte, los dolores que suelo tener durante la menstruación ahora son muy suaves, simplemente tengo las molestias normales, pero no los dolores extremadamente fuertes que tenía debido a mi endometriosis y los dolores de cabeza que tenía todas las semanas han desaparecido.
Así es que podría decir que encontrar una mejora física me está ayudando a encontrar una mejoría también en los otros ámbitos de mi vida, ya que me siento más optimista para hacer cosas y tengo fuerzas para poder hacerlas.
In English:
Since Andrew has been working with me, I've noticed a lot of changes and it's been really surprising for me, it's more than what I expected and you feel the changes quickly.
For one thing, I have more energy, as lately I've been very tired all the time and this change means that I now have more desire to do things and that I feel more positive.  
In general, I was quite sad and didn't feel like going out or seeing people and this has changed. I also feel more serene and I don't have the mood swings which I was having before.  Being more positive is helping me deal with any problems more calmly, without becoming so overwhelmed and I'm trying to resolve them in a sensible way without putting pressure on myself.
For another thing, the pain that I tend to have during menstruation is now very slight, I simply have the normal discomforts, but not the extremely strong pains which I had due to my endometriosis and the headaches which I had every week have disappeared. 
So I can say that finding physical improvements is also helping me find improvements in other aspects of my life. Now that I feel more optimistic about doing things and I have the strength to be able to do them.