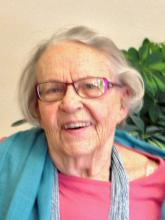 To start with, I do not understand Integrated Awareness.  My daughter has studied it for twenty years.  So after I had suffered distressing breathing problems for a year (beyond my usual COPD) I finally accepted her gentle suggestion that I see Lansing for a session.  My daughter had worked on me various times so I knew it was "hands on" work.
Specialist pulmonary doctors did not know what was causing this strange problem and I had little confidence that hands-on could help damaged lungs. I  believed and understood how perhaps this work might help muscle problems.  However, within a week of my visit with Lansing I became aware I was no longer struggling to breath. It seemed to have disappeared as quickly as it had appeared in my body.
The energy it had taken for me to breathe was now gratefully available for me to do and accomplish other activities I had been unable to do.  An awareness of an additional bonus appeared within a month… no lower back pain.  That pain had become an accepted way of life.  Now a year later I still have NO lower back pain.  Extra energy from that too!
I am 95 years old and feel vital and am alert and have no need for a "walker".  I am indeed grateful for this work and give it credit for my current excellent health.