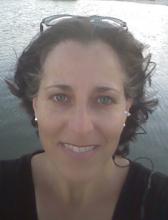 My IA journey has brought about many blessings, not only for me, but for my unborn child who is now 6.  Through the last few years I have hit many traumas bigger than I could handle.  Each time, it was the loving hands of an IA Teacher who brought me back to good sense and the will to live. 
After my second child, I was getting my body in shape and my career back on track when I was dismayed to discover I was pregnant again.  My husband was excited, but I was not.  After a few months and hours of reading over my swollen belly about prenatal consciousness, I wanted to make sure my unborn son knew any angst he felt was not about him – it was about my future plans being put on hold.  I wanted him to know he is welcome and loved with all my heart.
Judy Greenman
helped me deliver that message through a blissful
IA
experience.  Today, that son is my most loving, verbose child.  He snuggles with me in the morning and we exchange sweet nothings.  Spontaneously throughout the day he and I share tender words for each other. One day he said, "Mommy, bend closer. [inhaling] Your lipstick smells like love." 
It's possible we could have experienced this close bond without
IA
, but I attribute God's grace and that
IA
session for how truly connected and affectionate we are - - something that doesn't come naturally to me. 
Two other times after my son was born,
IA
helped me when I wished a way out would appear. In one case, it took multiple sessions to get me settled into a healthful mind-set and course of action.  In the other, one session guided me back into reality.  I knew those thoughts were only a manifestation, but I didn't know how to override them.  My
IA
sessions with
Judy Greenman
and
Dale Alexander
have touched my deepest wounds in a way that allowed them to surface safely and dissipate, while my conscious mind returned to the higher places it had known once before. 
Truly, if God hadn't sent me the
IA
Teachers He did, I'm not sure I would be here to tell about them and my children nor would my third one in particular have a stable, happy mommy to adore them.  Because of its powerful healing and nurturing effect, I continue to keep
IA
a part of my self-care regimen. I would recommend
IA
to anyone willing to be the best they can be for themselves and those they love.