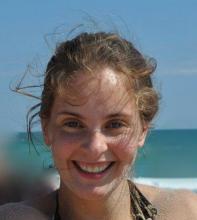 I was introduced to Integrated Awareness by my mother-in-law, who I was getting to know at the time. I had lost my own mother to sickness, gotten married, and had given birth to my first child within the same year. I had no idea what my experience was going to be other than the hearsay of how wonderful Integrated Awareness is at helping people with all aspects of their life and body.
Before I started IA, I identified myself as lost and alone. I had been very depressed most of my life. After a few sessions with Lansing, I noticed that my motorcycle accident injuries did not cause me pain any more. After a few workshops, I learned how the physical pain was related to my emotions. I also felt what it was like to truly be heard.
I hadn't thought it was possible to be seen for who I am and not be categorized by my pain or fear. I had thoughts like "I'm really not crazy?". My biggest discovery was learning that there is such a thing as "life tools". My feelings do not need to rule me; I do not need to fear myself; and there is such a thing as choice.
What I treasure the most from Integrated Awareness is how rich my life is. I have experienced extreme anger and was able to express it. I can laugh with true joy at times and can experience tears of joy. I can love and treasure the people I love – and share it! I recognize loyalty and see a lot of things for what they are. I've learned to hang on to things that I want to reminisce about and still let go of the associated pain. I have been able to recognize all of these gifts because of my experience with Integrated Awareness and the beautiful people I have met. I have gratitude in my heart everyday, because I can see how rich life can be and how people can connect. I treasure this.